SMH Series
Multi-row distribution device
After cutting the pouches filled with powder or liquid such as soup or condiments, this high-speed, multi-row distribution device places them at a regular interval and loads them into multiple containers placed and transported in parallel all at once. The development of an original distribution transport mechanism that does not suspend the cutting or transporting of pouches during simultaneous loading enabled the use of the device together with the high-speed pouch dispenser KD-4010.
Patent registration number: Patent No. 4887401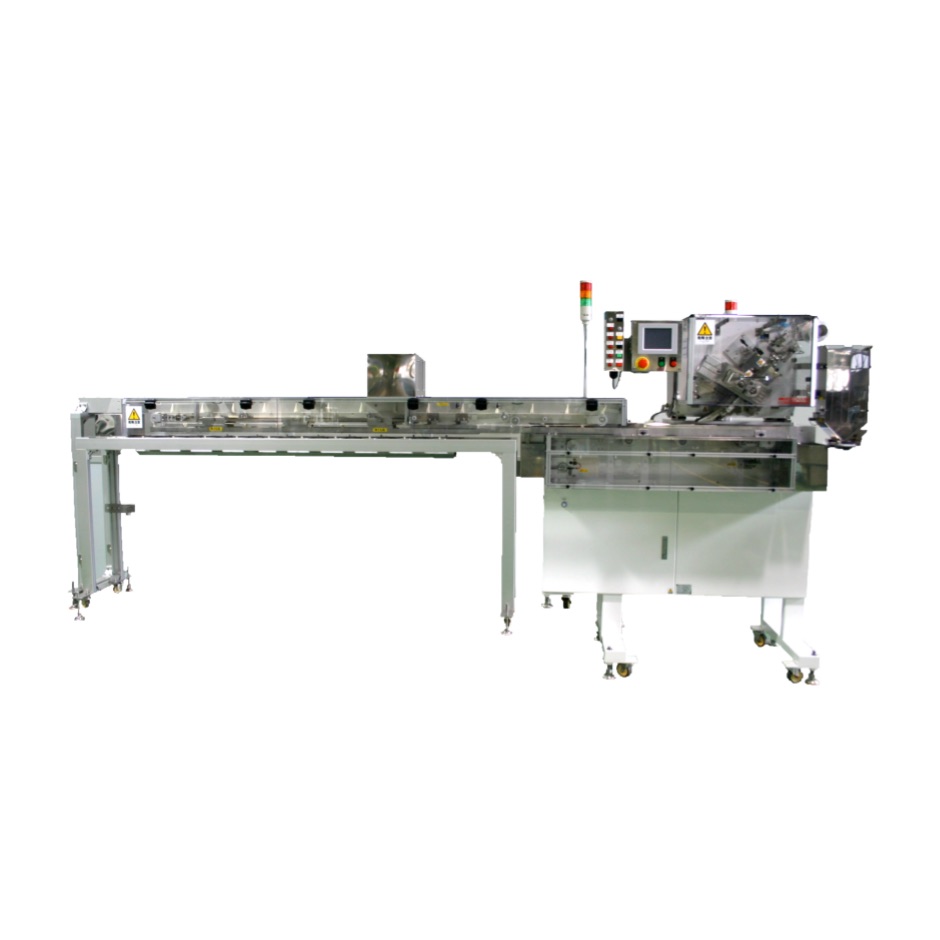 Drawing
Features
Achieved approx. 1.5 times the speed (in-house comparison)
Original distribution transport mechanism that enables continuous transport.
By making the intermittent operation of pouch transport conveyor in conventional machines continuous, pouch loading to between attachments is stabilized and the fixed-position distribution performance is improved.
Application of KD-4010 type pouch dispenser which is gentle to pouches to multi-row distribution equipment is made possible with the continuous transport of pouches.
Space saving. Multiple devices can be integrated into one device.
Compatible with various types of pouches and line speed depending on the pouch dispenser to be combined with.
Specification
Feeding capacity
27 shots/min (maximum) *1
Pouch specification
Width  40 – 100mm
Length 70 – 100mm
Thickness 20mm (maximum)
Power supply
3Φ AC200/220V 50/60Hz 6.0kVA *2
Weight
Approx. 420kg (Pouch dispenser: Approx. 130kg included) *2
Air source
0.5MPa 20L/min (ANR) dry air *2
*1 The feeding capacity is determined by the pouch dimension, loading containers (cups), and number of pitches and loading rows. Please contact us.
*2 May vary depending on the options to be equipped with.