MRV-8
Miravo Roll
roll outside diameterφ85 ・roll length under 700mm elastic code type expander roll.
This is a rubber tube type wrinkle removing roll.
It can be used to remove wrinkles from non-woven fabric, plastic film, paper, glass fiber and metallic foil.
The rubber tube coated along the outer surface of the roll expands and contracts with the roll rotation due to its special inner structure. When a web is wound, it will spread open with the rubber's stretching action. This will remove wrinkles from the web.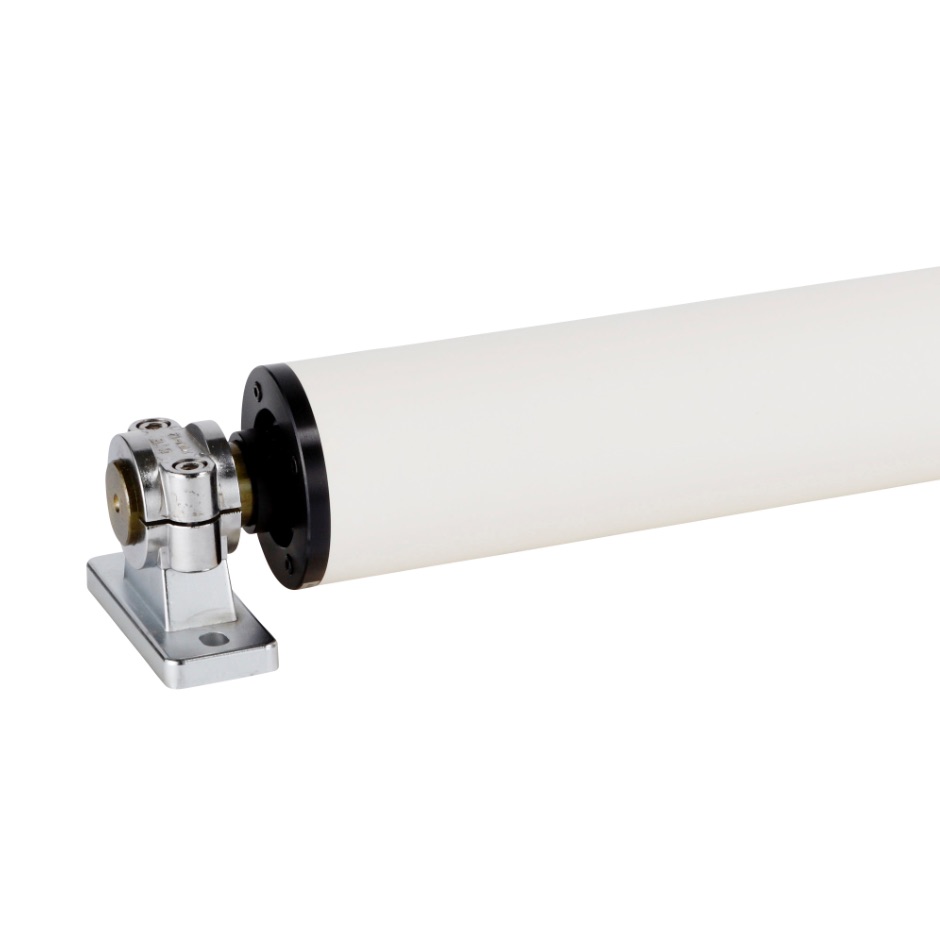 Features
This is a rubber tube type non-curved straight wrinkle removing roll. It can be used to remove wrinkles without straining the webs.
Scope of application


This is a wrinkle removing roll with a line speed of 100m/min or less and tension of 100N or less. Rolls are manufactured with an outer diameter of φ85 and a roll surface length of up to 700 mm. However, the role surface length changes at a 25mm pitch due to its structure.

Deployment amount
The deployment amount is set by the angle and the number of the ring-shaped rotating bodies. The deployment amount cannot be adjusted.
Maximum deployment amount: 2.0 mm
Mounting direction


The sheet pass line is compatible with any direction from horizontal to vertical. The sheet winding angle around the roll is generally set in the range of 30° to 90°.

Wide range of applicable films


Demonstrates its effects in removing wrinkles from a wide range of web materials, from ultra-thin (several microns) soft film to rigid metal sheet such as Cu and Al.

Compatible with high-speed lines
Compared to the elastic band type (FE) wrinkle removing roll, this rubber tube type (MRV) wrinkle removing roll is designed to support high-speed lines.
Maximum sheet speed: 100m/min
Synchronous rotation pulley


Due to its structure, there is rotational resistance. When used at low tension, attach the pulley to the roll and rotate it so that the line speed and the roll peripheral speed are synchronized.
Specification
Roll diameter (mm)
85
Roll length (mm)
〜700(25-pitch)
Rubber deployment
amount (mm)(*1)
〜0.9
Line speed (m/min)
~100 (reference value when allowable tension is applied)
Applicable webs
Non-woven fabric, film, paper, glass fiber, metallic foil
Environment
Dry(45 – 85%RH)(*2)
Maximum temperature: 80℃
Rubber materials(*3)
EPT(White / black)
NBR((White / black)
*1 Deployment amount when using a 90° sheet and a standard angle (3°) ring.
*2 We also offer a special specification vacuum compatible MRV roll.
*3 Rubber properties are listed in the general catalog.