KD-820&LV-1000
Adsorption-type pouch dispenser
The device consistently cuts continuous packaging pouches into one pouch (multiple pouch units are also possible) at a time, and loads them by automatically following the packaging device's conveyor speed. The device can be used for various types of pouches including powders, drying agents, oxygen absorbers and liquids.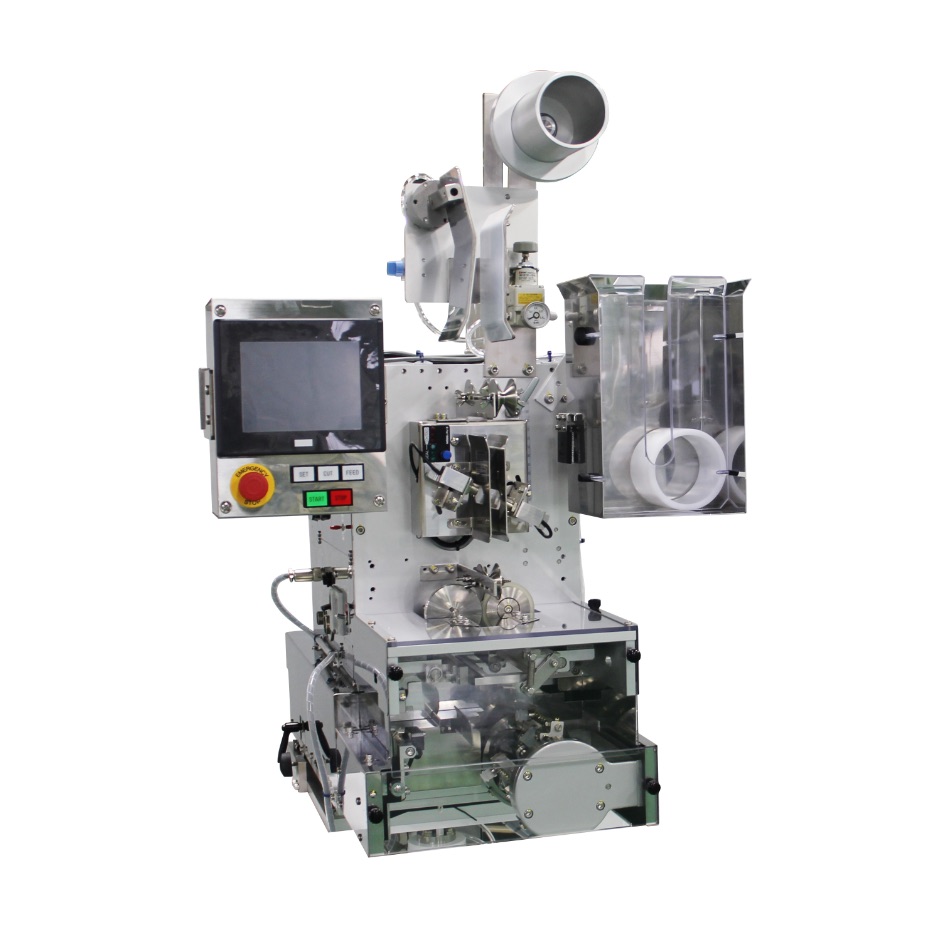 Drawing
Labor saving effects
Manual work
approx. 30 pouches/minAfter installing the device
approx. 250 pouches/min
Features
Feeding capacity: 250 pouches/min
The suction arm rotates, making high-speed loading possible in an effortless manner. Because pouches are loaded by automatically following the line speed of the packaging device, misalignment is significantly reduced compared to our conventional LV-200 device. (*An encoder unit is required)
Pouches with undesirable creases or curls are simultaneously pinched/adsorbed and cut with a guide to prevent cutting errors due to such irregularities.
By combining this device with hot melt coating equipment or the TM-200 (double-sided tape applicator,) attachment to packaging film can be performed accurately.
Specification
Feeding capacity
250 pouches/min (maximum)
*The longer the pouch length is, the lower the capacity will become.
*The maximum capacity will vary depending on the conditions of the packaging materials and contents.
Pouch specification
Width 30 – 100mm
Length 35 – 90mm *1
Thickness 1 – 10mm

Power supply
3φ AC200V 50/60Hz 1.5kVA
Weight
Approx. 50kg(KD-820 +LV-1000) Approx. 37kg (vacuum pump)
Air source
0.5MPa 80L/min(ANR)
*1 When the length is over 70mm, the optional jack unit is required.
*Adsorption may be difficult depending on the pouch shape. Please contact us for details.