KD-820&LV-100
Adsorption-type pouch dispenser
The device consistently cuts continuous packaging pouches into one pouch (multiple pouch units are also possible) at a time, and adsorbs/loads them in place on a conveyor line at a high speed. The device can be used for various types of pouches including powders, drying agents, oxygen absorbers and liquids.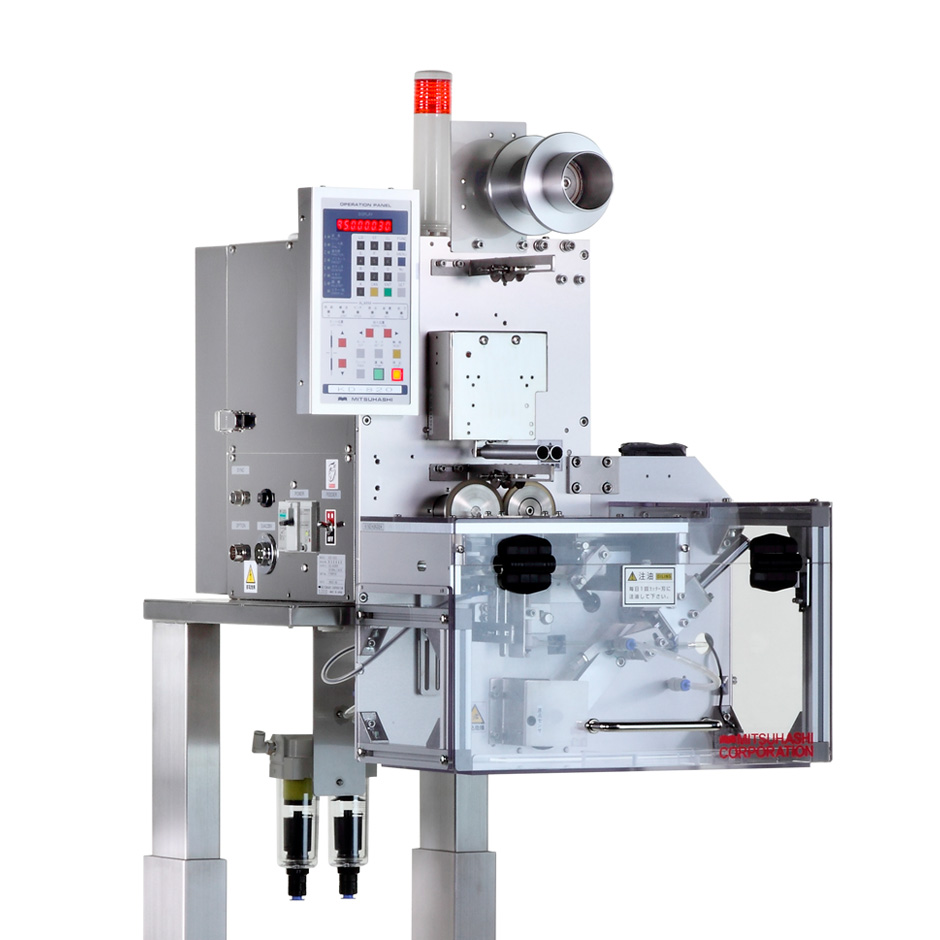 Drawing
Labor saving effects
Manual work
approx. 30 pouches/minAfter installing the device
approx. 100 pouches/min
Features
Feeding capacity: 100 pouches/min
Gently loads pouches to a fixed position at an accurate timing by adopting an AC servo motor drive.
It cuts and adsorbs simultaneously, so the pouches can be loaded in the same position each time.
Optimal for right-angle loading and attaching/loading to the packaging machine conveyor.
By combining this device with hot melt coating equipment or the TM-200 (double-sided tape applicator,) attachment to packaging film can be performed accurately.
Specification
Feeding capacity
100 pouches/min (maximum)
*The longer the pitch of the pouch length is, the lower the capacity will become.
*The maximum capacity will vary depending on the conditions of the packaging materials and contents.
Pouch specification
Width 20 – 70mm
Length 25 – 90mm
Thickness 1 – 10mm

Power supply
3φ AC200V 50/60Hz 1.5kVA
Weight
Approx. 40kg
Air source
0.5MPa 50L/min (ANR) dry air