PEM-3000
Controller
Controller for web alignment control. Used in combination with G series sensor and drive. It is equipped with color LCD touch panel, achieving universal operability. It is normally equipped with external interface such as I/O terminal to control operation mode switch with an external controller or an analogue output terminal to monitor web status.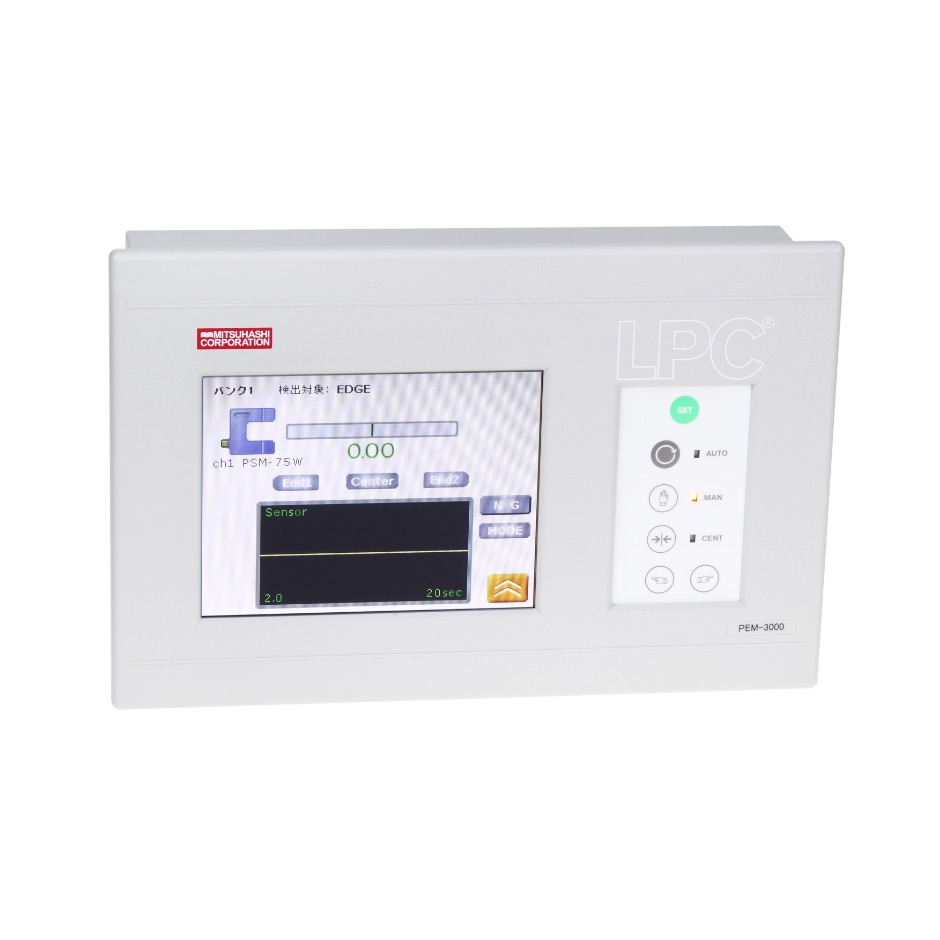 Drawing
Features
Intuitive operation is possible using a color LCD touch panel.
Normally equipped with terminal for operation mode switch input or alarm output for external control.
Normally equipped with analog output to monitor web status detected by the sensor.
Sensor and drive are connected by a connector and can easily be wired.
Maximum of 4ch sensors may be connected and may be used for web position monitoring in addition to alignment control.
Specification
Power supply
DC24V±20%
(supplied from connector terminal block, connector terminal block model: FKCN2.5/3-STF-5.08, Phoenix Contact)
Consumption current
500mA or lower
(Consumption current during operation of PEM-3000 single unit with supply voltage DC24V)
※Power supply of peripheral-connecting equipment such as sensors is supplied from PEM-3000. Suitable power supply should be prepared with consideration to the power supply capacity. Also, please ensure that the total consumption current of equipment powered from PEM-3000 does not exceed 3.5A.
Mass
Approx. 1.5kg
Installation environment
Ambient temperature
0 – 40℃
Ambient humidity
80%RH or lower ( no condensation)
Atmosphere
Indoors (no direct sunlight)
Well-ventilated
No corrosive gas, flammable gas, oil mist, dust
Other
Please do not install in a place with frequent vibrations.
Connection device
Sensor
Able to connect up to 4 PSM series units
・Single: Detects web edge or line mark
・Centering: Both edges of web
Drive
・Actuator: PDM series
・Roll guide: PGM series
・Other DC motor-mounted drive: PD, PG, MR series (drive of rated current 2.5A or lower)
Note) When using DC motor-mounted drive, DC motor driver PCM-D40 is needed.
Option
・Extension I/O module: PXM-100
Input 10 items (standard position set, mode selection (AUTO/MAN/CENT), drive operation, bank selection, mode interruption)
Output 10 items (sensor OK, mode status (AUTO/MAN/CENT), drive stroke end, drive center, comparator (upper limit/lower limit), bank switching response)
・Remote box :PTM-100
Display
5.7inchTFT Equipped with color display, touch panel
Display language
Japanese, English, Chinese, Korean
Operation
Flat keypad and touch panel
External control
terminal
・Input 8 items: standard position SET, mode selection (AUTO/MAN/CENT), bank selection, drive operation, mode interruption
 ※Either bank selection or drive operation can be used, not both (select either one from the parameter).
・Output 8 items: sensor status, mode status (AUTO/MAN/CENT, comparator output, NG, system run drive center
・Analog input 2 items: Select control sensor output, comparator sensor output or drive operation speed from the parameter
 (connect from connector terminal block, connector terminal block model: FMC1.5/4-STF-3.5, Phoenix Contact)
Note) In order to connect equipment such as sensor, drive or other optional equipment to PEM-3000, CAN bus-dedicated cable and branch connector are necessary. Please select them according to the equipment to be connected. The above cables and connectors are available at our company. (sold separately)