PEM-200
Controller
Controller for web alignment control. Used in combination with the G-series sensor and drive. It is compact and superior in cost performance. Although it has a simple function, it achieves high-response and high-precision alignment control.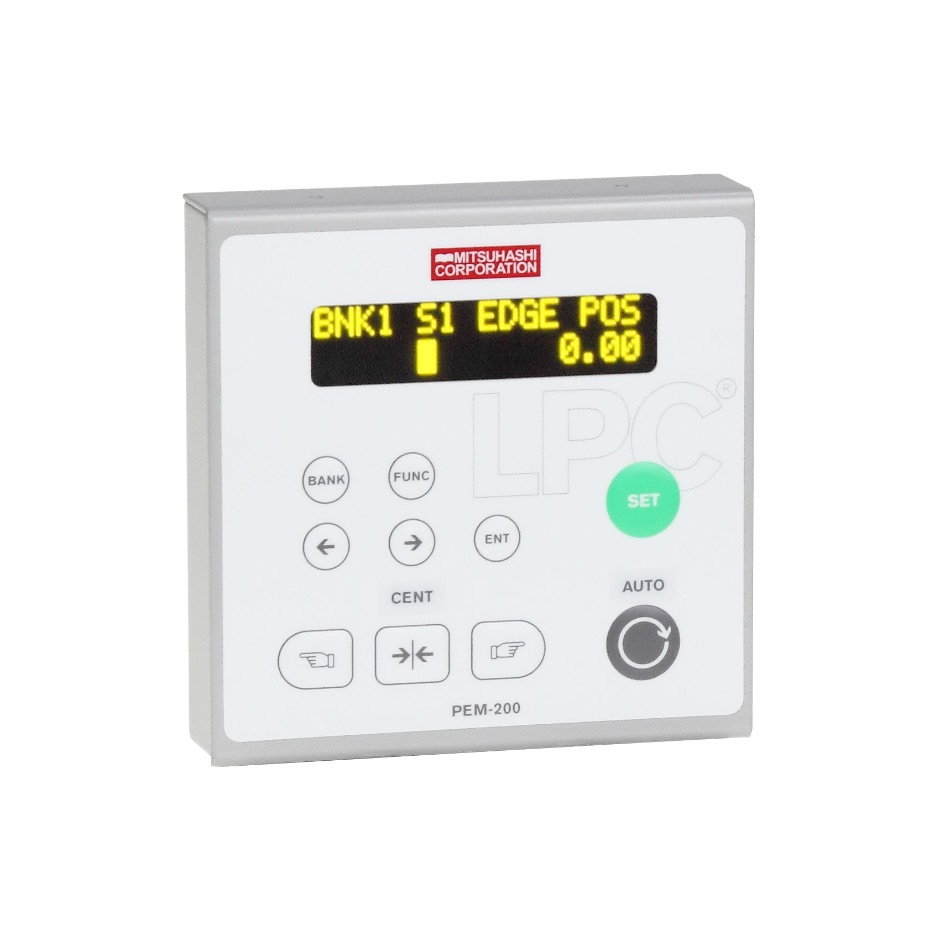 Drawing
Features
It has a simple function but is easy to use and superior in cost performance.
It can monitor the web control status with a miniature display.
It has a compact body of 96mm. If it is not fixed into place, it can be used as a handheld type.
In addition to web edge and line position control, centering control is possible by using a paired sensor.
Inter-equipment connector is used, so it can be accurately wired in a short time. Also, initial setting at the installation stage is easy as the connected equipment is automatically recognized.
By changing the internal setting switch, it can be used as a remote box for the controller's high-end model PEM-3000. In addition, with the simple alignment control system using detector PSM-46WS or PSM-75WS as controller mode (master mode), this controller can be used as a parameter setting unit in which live wire inserting/extracting is possible.
Specification
Power supply
DC24V±20%
Consumption current
30mA or lower (consumption current during operation of PEM-200 single unit with supply voltage DC24V)
Power is supplied by CAN bus. Suitable power supply for power to CAN bus should be prepared taking consumption current of peripherals such as sensors into consideration.
Mass
Approx. 500g (includes accessory cable)
Accessory cable
Cable length 3m,
Tip connector (M12 male connector, 5 poles, A coding)
Installation environment
Ambient temperature
0 – 40℃
Ambient humidity
80%RH or lower ( no condensation)
Atmosphere
Indoors (no direct sunlight)
Well-ventilated
No corrosive gas, flammable gas, oil mist, dust
Other
Please do not install in a location with frequent vibrations.
Connection device
Sensor
Able to connect up to 2 PSM series units
・Single: Detects web edge or line mark
・Centering: Both edges of web
Drive
・Actuator: PDM series
・Roll guide: PGM series
・Other DC motor-mounted drive: PD, PG, MR series (drive of rated current 2.5A or lower)
Note) When using DC motor-mounted drive, DC motor driver PCM-D40 is needed.
Option
・Extension I/O module: PXM-100
Input 10 items (standard position set, mode selection (AUTO/MAN/CENT), drive operation, bank selection)
Output 10 items (sensor OK, mode status (AUTO/MAN/CENT), drive stroke end, drive center, bank status, system run)
Display
OEL display, monochromatic 16 characters x 2-digit display
Display language
Japanese (katakana), English
Operation key
Flat keypad
Other
・Remote box mode: May be used as a remote box by changing the PEM-200 internal switch.
(Usage: As a remote BOX for PEM-3000 or setting unit for no-PEM system using PSM-75WS, PSM-46WS)
・Cable outlet for PEM-200 main body may be set to either on the underside or rear of the main body.
Note) In order to connect equipment such as a sensor, drive or other optional equipment to PEM-200, CAN bus-dedicated cable and branch connector are necessary. Please select them according to the equipment to be connected. In addition, a dedicated connector for CAN bus power supply is required. The above cables and connectors are available at our company. (sold separately)