MITSUHASHI CORPORATION
Head Office

Postal Code 615-0082 1,Sekizan-cho,Yamanouchi,Ukyo-ku,Kyoto,JAPAN
GoogleMap
The lot area 9,770 square meters
The building 8,500 square meters

TEL 81-75-316-3284(the main telephone number)
TEL 81-75-316-3300(the sales department)
FAX 81-75-313-7595 
 

Tokyo Branch (Export Office)

Postal Code 111-0043 YoshikuniKomagata-bldg.9F,2-4-11,Komagata,Taitou-ku,Tokyo,JAPAN
GoogleMap

TEL 81-3-3847-9751(the main telephone number)
FAX 81-3-3847-9753
 

Kyushu Branch

Postal Code 812-0016 Minamikindai-bldg.6F,4-2-10,Hakataekiminami,Hakata-ku,Fukuoka,JAPAN
GoogleMap


Shanghai Mitsuhashi trading company

Room 1314, 36 Lanes, 1200 chang qing Road, Shanghai,CHINA
GoogleMap
TEL & FAX 86-21-5068-5366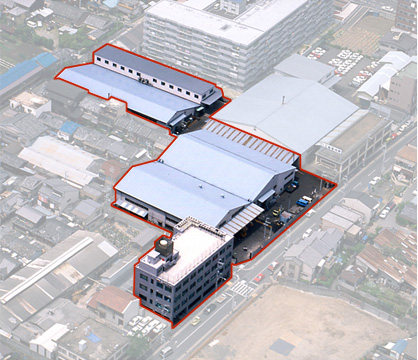 The sales item

Packaging related equipment


PACK
POUCH DISPENSER
CARD DISPENSER
POUCH LOADERー
POUCH WINDER
Converting related equipment
LPC
AIRX SHAFT
UE
Others、Automatization, Labor-saving machines
 

The foundation

21 February 1944
 

The capital

100,000,000 yen
 

The representative

Mitsuhashi Hiroshi
 

The number of the staff

100
 

The main customer

Packaging machine related Inc.
The processing of paper and a film related Inc.
The production of the food and the medicine related Inc.
 
Group Companies

MITUHASHI SUNBRIDGE CORPORATION
The MITSUHASHI SUNBRIDGE-corp is hard brunch at Mitsuhashi factory. It founds in 1979.It is doing the continuous production of AIREX SHAFT. Besides, it is answering for the request of the customer in wide field of the processing, the construction, the electrical assemble and the adjustment.

Homepage >> 
Post code 719-3101 610,Mitsuhashi,Akano,Maniwa-shi,Okayama,JAPAN (It changes from 2005 March 31st.)
GoogleMap
TEL 0867-52-2890
FAX 0867-52-3770
Contact info@sunbridge-corp.co.jp
The lot area 24,070 square meters
The building 6,700 square meters