PGMW-15
Integrated Miniature Roll Guide
#Integrated Miniature Roll Guide
Used when carrying out alignment control in the intermediate process of web transport. Due to the built-in controller and sensor, time required for design, installation, wiring and adjustment processes are reduced for the customer, enabling ease of use. With built-in brushless motor, high maintainability, high response and high precision are achieved. It is used for narrow web of 600mm width or less, suitable for alignment control of packaging machines and sanitary goods manufacturing machines.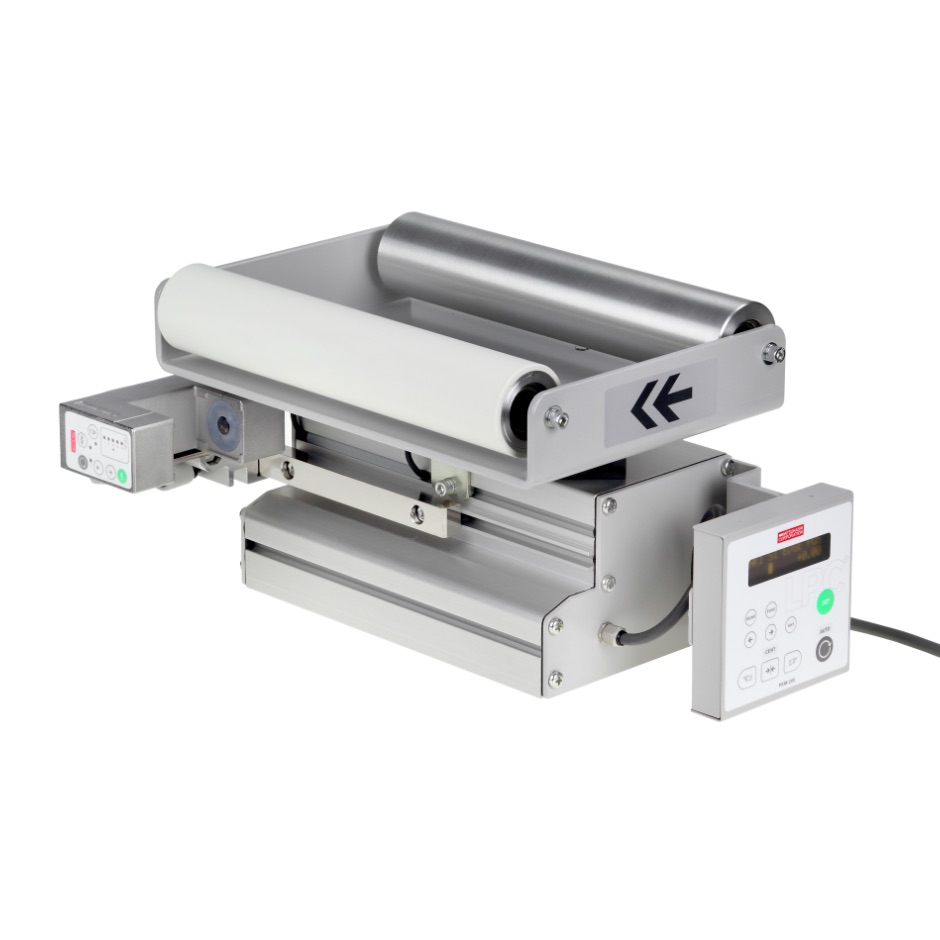 Drawing
Features
Only connection to the power supply is required, so assembling onto a machine can be completed in a short time.
Maintenance-free brushless motor is adopted.
Ball screw-type miniature actuator is built in, enabling the roll frame to rotate powerfully without rattling.
Turning torque of the roll frame is over 2.5 times that of the conventional gear-type PG-100.
Coupled with low backlash (less than one-tenth that of a conventional machine), it has a composition which supports the roll frame at 3 points, namely at the pivot axis and 2 points at cam follower, making it a highly rigid roll frame.
Either IR edge sensor (PSM-75 series) or ultrasonic edge sensor (PSM-46 series) may be selected according to use. Alternatively, by using 2 PSM-75 series units, centering control is made possible.
Specification
Short Type (PGMW-15-ST)
Long Type (PGMW-15-LT)
Power supply
DC24V±20% Please connect to the attached cable (5m) terminal. (24V:"+", 0V:"-", grounding "FG")
Consumption current
0.6A(supply voltage DC24V)
Built-in equipment
Controller
PEM-200
Sensor
Please designate the type and number of sensors.
・PSM-46、46W (maximum 1 unit, edge control)
・PSM-75、75W (maximum 2 units, edge or centering control)
When using PSM-75 series, using a dust blow unit to prevent dust attaching to the lens in a dusty environment is effective. The model number is PSM-75W-DB. In such a case, please prepare air pressure :0.2 – 0.5MPa, dry air, maximum consumption 20Nl/min.
Scope of application
Roll surface length
150 – 650mm
200 – 650mm
Roll diameter
φ46 、φ78
Please inquire regarding other specifications.
Roll materials
・Aluminum roll (with or without alumite)
・Rubber roll (NBR white)
・CFRP(with or without rubber cork winding)
Please inquire about other specifications.
Roll span
150mm
175mm
200mm
225mm
250mm
275mm
300mm
400mm
Correction amount ※1
±17mm
±19mm
±22mm
±25mm
±16mm
±18mm
±20mm
±27mm
Correction speed
20mm/s
22mm/s
25mm/s
28mm/s
14mm/s
15mm/s
17mm/s
23mm/s
Maximum web tension ※2
200N(web width 250㎜)
260N(web width 450㎜)
Maximum web running speed
300m/min
Operating environment
Temperature:0 – 40 ℃
Humidity:80%Rh or lower (no condensation)
Mass (excluding drive main body, roll frame)
4.0kg
Other
<Method of determining roll frame position>
・Proximity switch is used to set center position and electronic counter-type to set stroke end position(position is set with a controller).
Automatically moves to the center when power is turned on (standard specification).
・Proximity switch for stroke end detection may be added as an optional feature.
<Position of control panel and connector panel>
・The control panel and connector panel are on the right/left sides of the main drive case.
・The items are shipped in a fixed direction depending on the web flow direction.
(Right flow) when the end-side roll in the front, the control panel is on the left side.
(Left flow) when the end-side roll in the front, the control panel is on the right side.
※1.Value obtained from the swing angle of the roll frame. (short type:±7°, long type:±4°)
※2.Tension is proportionate to the web width.